CDC Report ~ January 5, 2016 ~

About 7 in 10 middle and high school students – more than 18 million young people – see e-cigarette advertising in stores, online, in newspapers and magazines, or on television and in movies, according to a new CDC Vital Signs report. E-cigarette ads use many of the same themes – independence, rebellion and sex – used to sell cigarettes and other conventional tobacco products. Advertising of tobacco products has been shown to cause youth to start using those products. The unrestricted marketing of e-cigarettes and dramatic increases in their use by youth could reverse decades of progress in preventing tobacco use among youth. Efforts by states, communities, and others could reduce this exposure.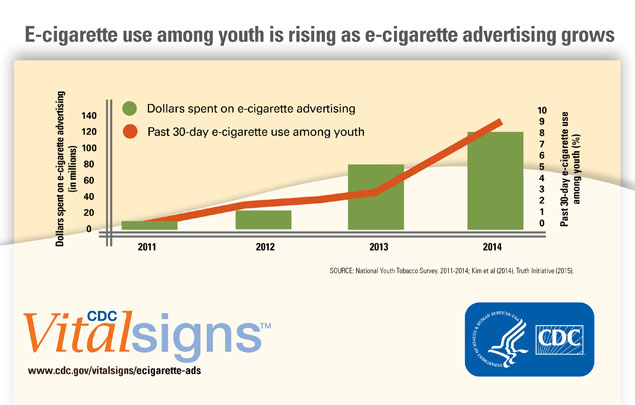 E-cigarettes typically deliver nicotine, which at a young age may cause lasting harm to brain development, promote addiction, and lead to sustained tobacco use. In 2014, e-cigarettes became the most-used tobacco product among youth, surpassing conventional cigarette use. From 2011 to 2014, current e-cigarette use among high school students jumped from 1.5 percent to 13.4 percent, and among middle school students from 0.6 percent to 3.9 percent. Spending on e-cigarette advertising rose from $6.4 million in 2011 to an estimated $115 million in 2014.
"The same advertising tactics the tobacco industry used years ago to get kids addicted to nicotine are now being used to entice a new generation of young people to use e-cigarettes," said CDC Director Tom Frieden, M.D., M.P.H. "I hope all of us can agree that kids should not use e-cigarettes."
Here's what states and communities can do to fight e-cigarette and other tobacco product use by young people:
fund tobacco prevention and control programs at CDC-recommended levels to prevent youth use of all tobacco products, including e-cigarettes;
work to reduce youth exposure to e-cigarette ads by limiting where and how e-cigarettes and all tobacco products, are sold, including in stores and online; and
support efforts to implement and sustain proven youth tobacco prevention actions such as tobacco price increases, comprehensive smoke-free laws, and high-impact mass media campaigns.
To learn more, visit the Vital Signs on e-cigarette ads and youth.